The UK's leading themed candle and
wax melt subscription box.
We love introducing our subscribers to the amazing artisan candle and home-fragrance makers that we have in the UK. Each month we create a beautifully presented box of candles, wax melts, diffusers and room sprays, all selected to complement each other perfectly, and then we deliver it straight to your door.  It's the hassle-free, monthly treat that helps you relax, unwind and have the most lovely smelling home.
30% Discount On First Box - From £14
We offer a monthly subscription, gift subscriptions and limited edition one-off boxes through our shop.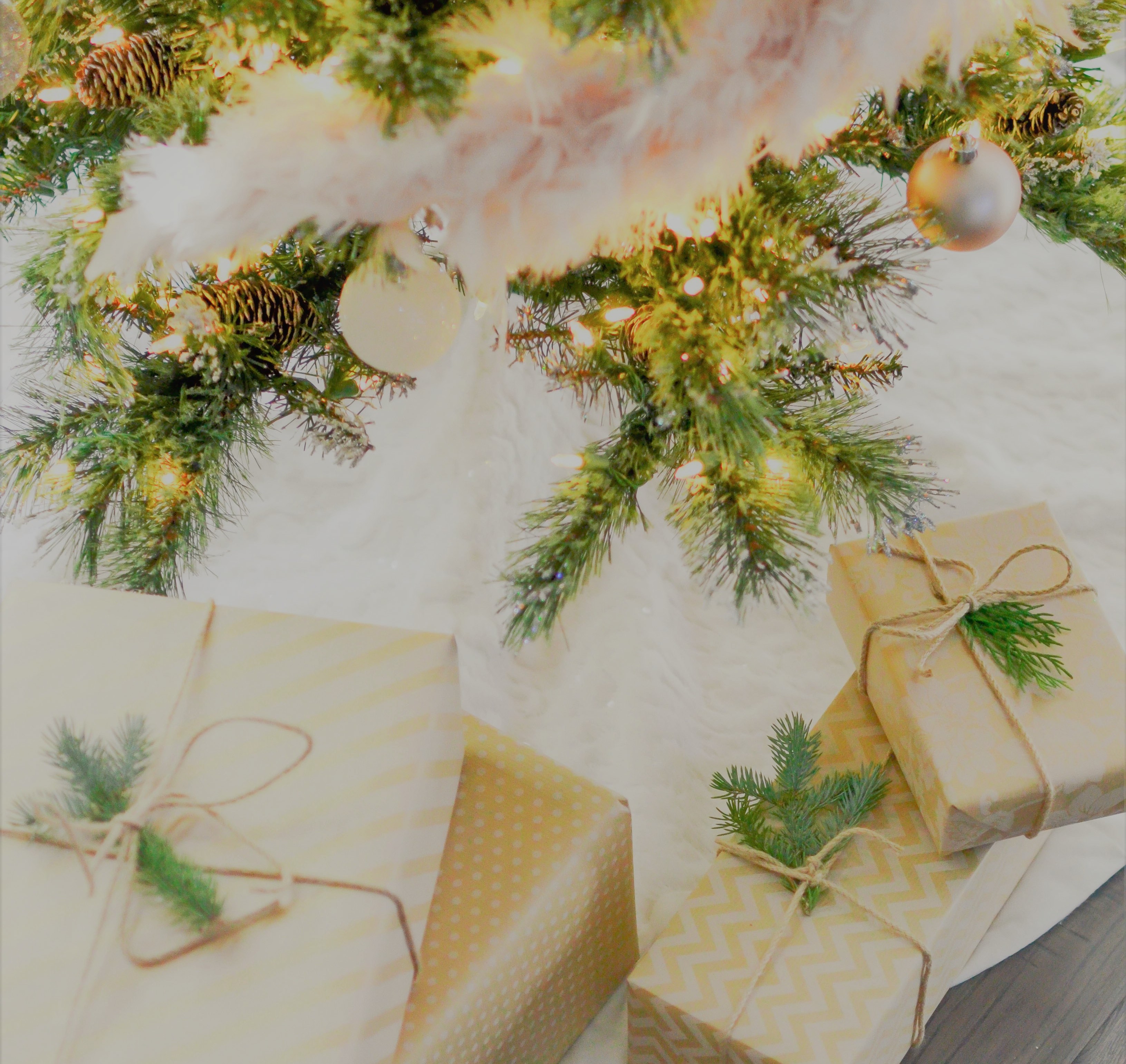 To get your home ready for the festivities, this months box will provide everything you expect and more. 
With notes of gingerbread, cinnamon, cloves and figs, this box will get your home smelling almost good enough to eat. Perfect for welcoming in guests over the festive season.
Now all you need to do is put on the party tunes or a festive film, pour yourself a warm drink, indulge in a chocolate or two and get those candles lit.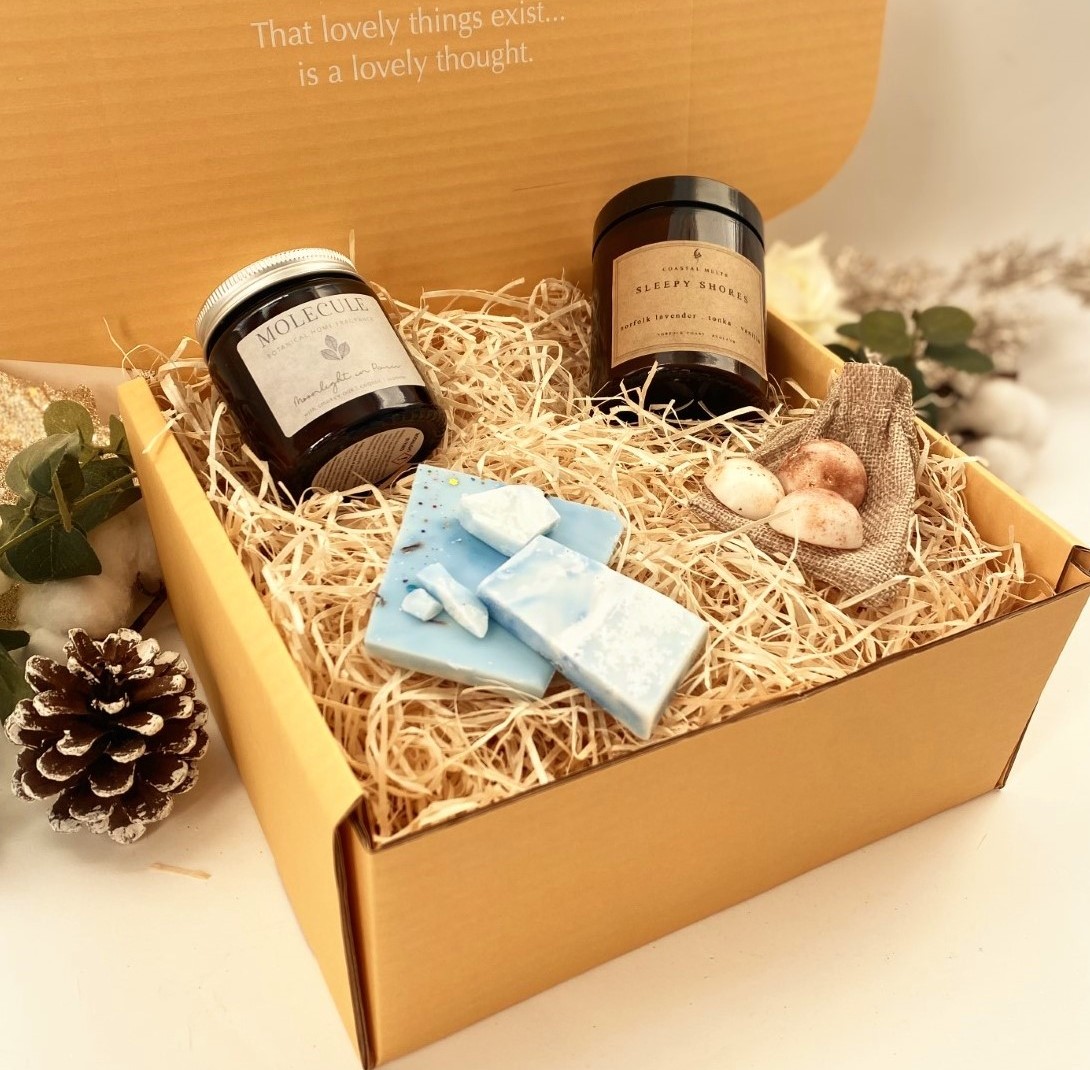 November's theme is 'Winter Warmer' is all about keeping cosy and relaxing before the festive madness kick in. As the season progresses it can be the perfect time to embrace some darker and more sophisticated scents for your home
Is there anything better on a cold dark evening than cosying up with the curtains drawn, your candles lit and your favourite tea or tipple on the go.. I think not 😊
With scents including lavender, black amber and musk,  mixed with patchouli, oak and cognac, this box has a lovely elegant vibe to it, whilst still being warm and inviting.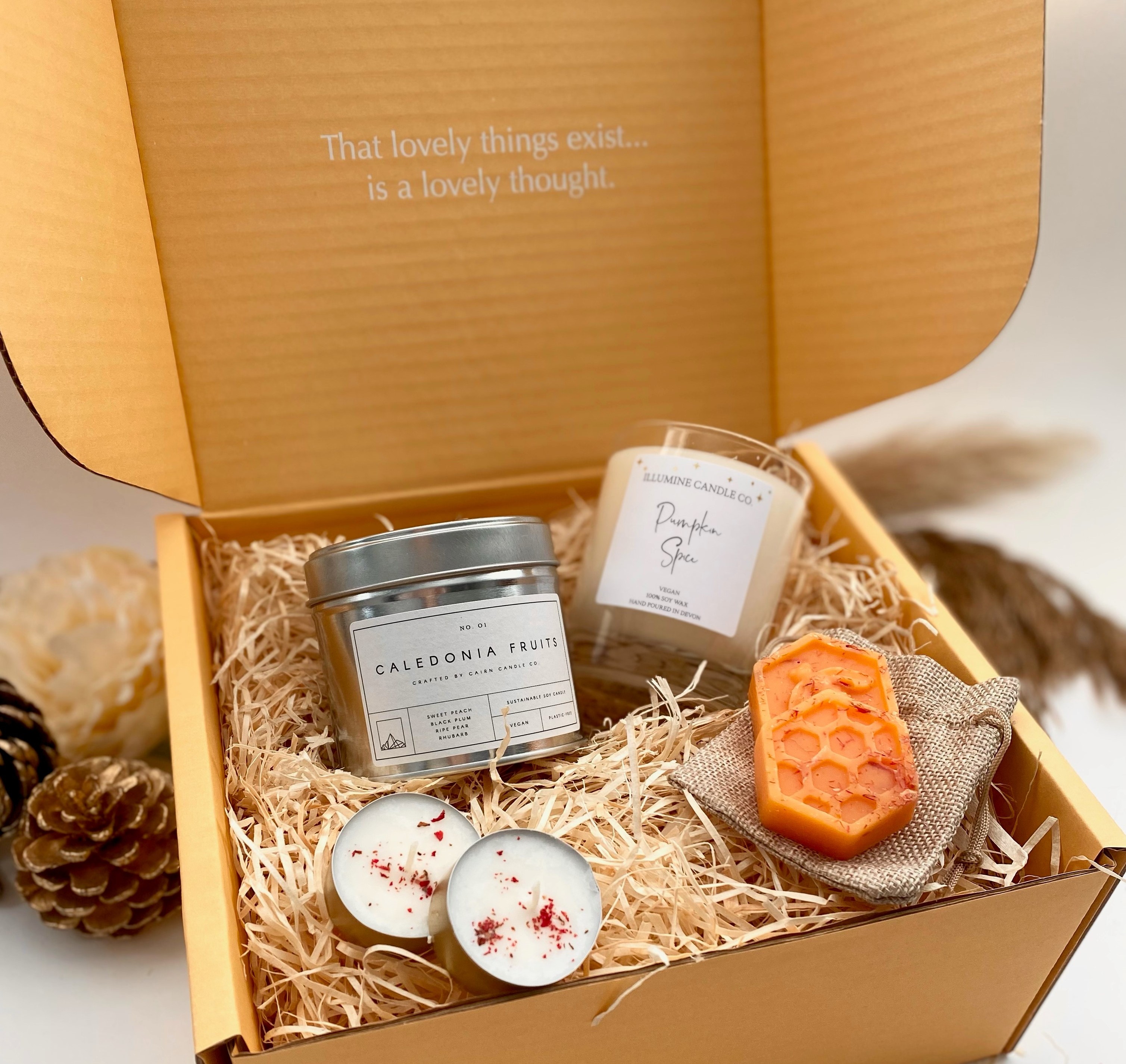 Time to bring on the cosy vibes!  October's theme is Autumn Delights and is celebration of all things we love about Autumn, enchanting candle glows, cosy cardis and of course the scent of the season, pumpkin spice.
Could there have been any other scent to feature this month.. I think not.  This year's version of the iconic scent is really warm mellow and cosy, the candle version of a big hug.  To complement the warm notes of the pumpkin spice the other candle and products are rich with notes of dark plum, rhubarb and mulberry mixing with amber, musk and sandalwood to create some gorgeous products.  It's time to embrace the new season and what better way than with a gorgeous Lovely Box filled with Autumnal scented treats
Our Lovely Box Customers Love Us!
"I received my Lovely Box earlier today and I'm delighted with everything in my box! Currently have my wax melts lit and my whole room smells amazing! Thank you Laura, I'm so looking forward to receiving my next Lovely Box!"
"My first Lovely Box was just that. Lovely! Absolutely loved the smell that hit me when I opened it and my house is smelling gorgeous for Christmas! I keep getting compliments on the fig and vetiver candle when I have people round, thank you so much." 
Uddingston, South Lanarkshire
"Was given a 'lovely box' as a gift and it is absolutely gorgeous! The candle combinations made my house smell amazing over the festive period. Would definitely purchase another box for myself and it also makes such a gorgeous gift!"
We are a themed home fragrance subscription box service, delivering you a monthly box full of lovely things from the best UK artisan candle and wax melt suppliers. Our aim is to help you discover some of the amazing home scent makers we have in the UK. Each box contains a selection of candles, roomsprays, diffusers & wax melts all from natural sources.  Each box is also themed, meaning all of the products complement each other perfectly and are suited to that particular month.
What happens after you sign up?
After you sign up, you'll receive your box shortly after the 16th of each month.
After your first delivery, on the 1st of the following month for as long as you want to keep receiving our boxes, we debit the subscription fee from your account.
It's as simple as that, sit back, light your amazing new candles and enjoy...
Not wanting a subscription?
Need a gift or treat for yourself?  We offer limited edition, one-off boxes available through our shop. Copyrights © All Rights Reserved By LovelyBoxUK Ltd